The Renfrew Ravine Moon Festival showcases the talents of the Renfrew-Collingwood neighbourhood and Vancouver's local artists, as well as the natural beauty of Still Creek and the Renfrew Ravine.
Harvest Fair: Saturday September 10. 4-8:30 PM. Slocan Park. Enjoy diverse music by local artists, eco-arts workshops, games, and community booths while savouring a bowl of Harvest Soup. At twilight, a lantern parade led by Indigneous group, Coastal Wolfpack, will lead you along the routes of Lost Streams.
Streamside Lantern Installation: Saturday, September 17th. 7:20 (sunset)-9:30 PM. Renfrew Collingwood
Park. Explore a beautifully transformed Renfrew Community Park, filled with giant lanterns and
illuminated art — accompanied by enchanting live music and set against a magnificent backdrop of
towering trees.
Smaller events include mooncake workshops, lantern workshops, drop spindling, environmental stewardship, and more! Visit stillmoonarts.ca for a full list of events.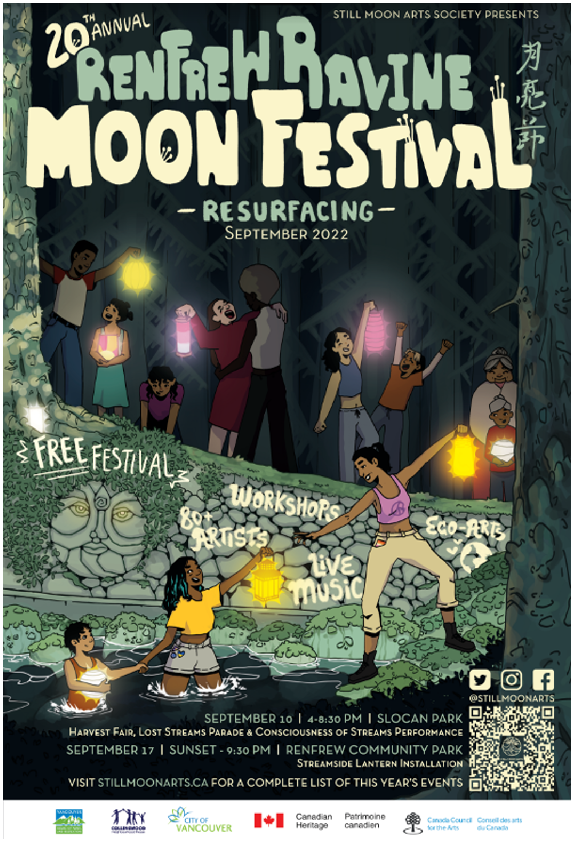 About Still Moon Arts Society SMAS mobilizes community and creates positive change through eco-arts and environmental stewardship programming, and produces the Renfrew Ravine Moon Festival annually. We are a non-profit registered charity whose mission is to inspire vibrant and connected communities by creating artistic experiences and nurturing a passion for nature.
The Moon Festival engages over 5000 community members of all demographics who participate as attendees, artists, staff, and volunteers. It also provides personal and community development opportunities through emerging artist showcasing and training, eco-arts and stewardship workshops, and youth mentorship.